INSTRUCTIONS FOR PURCHASE
Please use the following instructions to make your purchase:
Current Breaking Deal valid FOR 1 WEEK FROM THE 22nd October 2020
1. Go to www.teflfullcircle.com/buy
2. Add the
50 LESSON PLANS
+ 
40 HOUR TEACH ONLINE
+
3 MONTH EXTENSION
+
20 HOUR EFFECTIVE LEADERSHIP
+
20 HOUR STARTING YOUR OWN BUSINESS
+
20 HOUR SUPERFOODS COURSE
+
20 HOUR LIFE COACHING COURSE
to the basket and enter your discount code in the box provided.
CODE = TEACHONLINE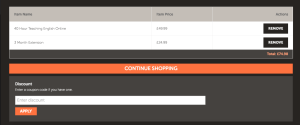 3. Our system uses 2 different databases. This means that the log in details for your online course page could be different from the Website.
4. Please log in on the BUY page.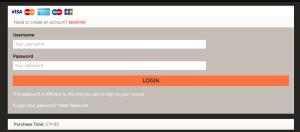 Your Username will be your email address
Your Password will be the original password you used when you first purchased your course. It could be different from your Online Course Log in.
If you have forgotten your website log in please use the password reset button and reset your password.
This will not affect your Online Course Log in
5. Please complete your address details and choose a start date
6. Press Purchase and you will be taken to our Secure Payment Page
7. If you have any difficulties with this process please send us an email at support@teflfullcircle.com and we will get back to you as quickly as possible. We like to get back to everyone within 24 hours.
8. And finally thank you and enjoy your new course