INSTRUCTIONS FOR PURCHASE
Please use the following instructions to make your purchase:
Current Breaking Deal valid FOR 3 DAYS  FROM THE 24th November  2022
1. Go to www.teflfullcircle.com/buy
2. Add ANY PRODUCT TO THE BASKET
CODE = BLACKFRIDAY  = 90% OFF ANY PRODUCT *
Terms and Conditions apply: You may purchase any products except the following: Certificates are not included with this promotion and if you have already purchased the 120 Hour or 160 Hour TEFL you are only permitted to gift this product to new learner (a learner that is not already enrolled onto the 120 Hour TEFL or 160 Hour TEFL Course)
IF YOU WISH TO GIFT THE 120 HOUR OR 160 HOUR TEFL PLEASE GET IN TOUCH AND WE WILL SEND YOU A UNIQUE CODE. 
3. Our system uses 2 different databases. This means that the log in details for your online course page could be different from the Website.
**Log in as an Existing User
**Password created with first purchase. Password is not the same as 120/160 Hour TEFL Online Course Login.
If you have forgotten your password please use this link:
4. Please log in on the BUY page.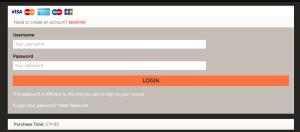 Your Username will be your email address
Your Password will be the original password you used when you first purchased your course. It could be different from your Online Course Log in.
If you have forgotten your website log in please use the password reset button and reset your password.
This will not affect your Online Course Log in
5. Please complete your address details and choose a start date
6. Press Purchase and you will be taken to our Secure Payment Page
7. If you have any difficulties with this process please send us an email at support@teflfullcircle.com and we will get back to you as quickly as possible. We like to get back to everyone within 24 hours.
8. And finally thank you and enjoy your new course